Managing Horses - How to
6 April 2010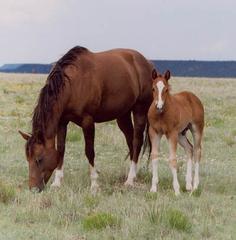 If you own a small property and have horses, or are interested in owning a horse, Jane Myers' upcoming free seminars in Ainslie and Queanbeyan on sustainable horse property management are a must. Jane is a respected author of books such as 'Managing Horses on Small Properties' and will discuss some of the key topics from this book at the seminars. This includes pasture improvement, grazing management, property design and horse facilities, manure management and horse health and behaviour.
Jane said "Responsible horse ownership begins with you becoming as knowledgeable as you can about horse
care, behaviour, training, safety, welfare and management, including property and pasture management, and putting this knowledge into practice." The free seminars give local horse owners a unique opportunity to attend one of Jane's seminars free of charge and hear her tips on improving your property for your horse and the environment.
Two free seminars will be held by the Ginninderra, Molonglo and Southern ACT Catchment Groups (with assistance from the ACT NRM Council) on developing responsible horse ownership. Jane Myers MSc (Equine Studies), educator and author of the book Managing Horses on Small Properties will deliver presentations covering the topics:
Pasture improvement;
Grazing management;
Property design and horse facilities;
Water protection, conservation and supply;
Manure management;
Trees and plants;
Horse health and behaviour.
WHEN & WHERE:
Wednesday 21st April. 6pm-9pm at Ainslie Football Club- Antil Room
BOOKINGS ESSENTIAL- Please call the Ginninderra Catchment Group on
(02) 6278 3309 or email
OR (Presentation will be repeated- participants need only to attend one night)
Thursday 22nd April. 6pm-9pm at R. B. Smith Community Centre
(Jim Snow Room) 262 Crawford Street, Queanbeyan.
BOOKINGS ESSENTIAL- Please call the Molonglo Catchment Group on
(02) 6299 2119 or email
COST: FREE
Food and drink will be provided
This seminar will be followed-up by a practical "on-farm" session in Spring/Summer. [Information courtesy of Ginninderra Catchment Group]
---