Macca lights up Dogs Dinner
12 March 2010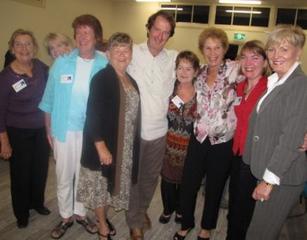 Ian 'Macca' McNamara was a surprise (for many) guests at the annual dinner for Sheep Dog Triallists and local community. The dinner was a terrific night out shared by around a hundred people. Local MLA's Meredith Hunter and Alistair Coe were amongst them, and enjoyed getting a 'slice of the bush'.
National Sheepdog Trials Association Chair Peter Welch welcomed the guests, and made a special presentation to Progress Association committee member Brian Banyard. Brian has relentlessly pursued the goal of making sure that the pavilion refurbishment was completed, to our specifications, in time for the Sheep Dog Trials; the official 'handover' took place on Thursday. Brian got the 'Order of Hall' medal - well done!
Macca not only joined us for dinner, but picked up his guitar and entertained us with a few numbers, and got the whole mob on board with 'Home among the gum trees'. Other entertainment was provided by a couple of very dynamic young boot-scooters and of course great music by Dr Stovepipe.
Our photo shows the happy band of Hall women (and Macca in the middle) who organised the dinner and other social events during the Sheep Dog Trials. Our warmest congratulations to all of them for a very successful week (so far!)
Our photo shows: Margaret Morris, Margaret Monohan, Marion Banyard, Diane Aston, Ian McNamara, Garrie Greenwood, Helen White, Angie Hazlehurst, and Trish McIntyre.
---