Hall Brass Band back in town
6 March 2010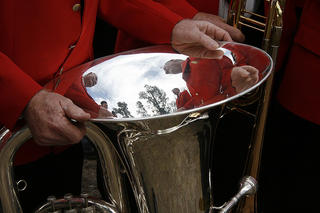 Following last years very popular 25th Anniversary Concert by the Hall Village Brass Band, the Progress Association and the Band decided that this should be come an annual event. So here we are again - but bigger and better.
The Band will be joined by young soprano Katherine Jenkinson for some solo numbers, as well as the Band's entertaining mix of Brass Band music.
This years Concert is supported by Hall financial consultants Barnett Lilley and Associates, and Southern Cross Media, who are running a TV advertisement. Lerida Estate winery are donating some fine wine for a raffle on the day.
The Band outgrew its original Hall homes - first at the school, and then the pavilion, and now rehearses at the Ainslie Arts Centre. In the fine brass band tradition, the Band intends to maintain and strengthen it's links with it 'place of birth'.
The Concert is free, but their will be a bucket collection for the Hall Volunteer Rural Fire Brigade. Come along and enjoy your own Brass Band!
---