Why 'Hall' - Part 1
18 February 2010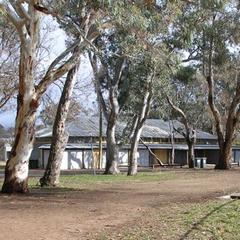 It may not be so well known that the Village of Hall is named after one of Canberra's earliest pioneers, and Ginninderra's first resident landholder, Henry Hall Esq. of "Charnwood".
The 3472 acre property of "Charnwood", in the Parish of Wallaroo, Ginninderra District, was settled by the Hall's only 7 years after the first explorers moved through the area, and 45 years after the first fleet. Henry and his wife Mary (nee Fisher) occupied the property for 40 years from 1833 to 1873, raising 11 children, before moving to Yass, where they are buried.
The "Charnwood" homestead site itself can be located between Shakespeare Crescent and Hall's Creek, opposite Rogers Street, in today's suburb of Fraser. It was demolished in the 1970's due to poor condition and problems with squatters and vandalism. Nothing visible remains of the main homestead, but a number of large trees remain to mark the spot, including conifers, quinces, two huge olives (which still bear fruit), and other trees including a very unusual species from North America. I will tell you about that next time. Some 100 metres or so west, off Binns Street, there are the foundations of an out-building and conifer trees.
Today it is a popular area for local residents to walk in and children to play in, but, most likely, without a knowledge of it's history. The Hall family is remembered by the naming of a suburb after their property; Hall Village; Hall's Creek (that runs through Hall Village, past Hall homestead to Gooromon Creek) and by Mary Hall Circuit in Dunlop.
It may be worth considering how we can commemorate the Hall family and their contribution to local history both at the homestead site, and in the Village. Possibly interpretive signage or a plaque. Any other suggestions?
In future parts I will tell you a bit more about the Hall's, their children and their property as well as a few interesting facts and stories.
[Many thanks to Mark Stockall, Great-great-great Grandson of Henry Hall of "Charnwood". Watch this space......]]
---