Meet Marc
17 October 2008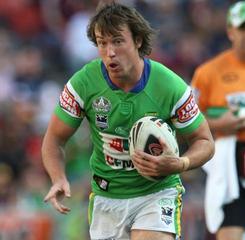 Local Canberra Raiders fans need no introduction to Marc Herbert. Marc stepped out of the shadows when Todd Carney was released by the Canberra Raiders, and made his Raiders debut as half back against the Gold Coast Titans at Canberra Stadium on 26th July. The Raiders won 46-4. After losing to the Brisbane Broncos in the following week, Raiders then won three in a row and scored 150 points with their new half back at the helm. After the gloom of losing Todd Carney, Marc's performance was a splendid revelation.
Not even all the local fans, however, know that Marc is a Hall boy – the son of lead guitarist with our own 'garage band' West Texas Crude – Matthew Herbert, and his wife Therese. Marc is the third of their four children – Rachel, James, Marc and Madeleine. The Herbert family moved to Hall when Marc was three. Brother James is also a talented player; he was part of the Gungahlin Bulls side beaten in this years ACT Final. Father Matthew also played in the ACT rugby league competition after coming to Canberra from Bega as a young man.
Marc went to School at Watson Rosary, and then Daramalan College, where, inevitably, he was encouraged towards playing rugby union. Marc found himself standing around waiting for the ball for too long, and opted for league. As a youngster he played for East Canberra Tigers and the Belconnen Sharks. He was talent scouted by the Raiders as a teenager, and played in the Harold Matthews Cup team, the S G Ball team, and the Under-20's, before his break-through this year. As a young Raiders fan himself, it was Laurie Daley and Ricky Stuart that he most admired.
Alongside his professional football career, Marc is a student at the University of Canberra, undertaking a degree program in Sports Media. Studying part-time, this will take him six years. Marc has two more years on his current contract, and cannot at the moment see any reason why he would want to move away from Canberra. This will be good news to Raiders supporters.
Our warmest congratulations to Marc ('Herbie') on his outstanding sporting achievement. We wish you all the very best for the season ahead, and a long and rewarding career in rugby league. Well done indeed!
---
« Celebration of community heritage at Hall Schoolhouse Museum