Hall Village Brass Band - Big Gig
24 September 2008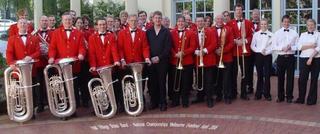 In 1984 four people who played brass instruments and worked in Hall Village got together at the Primary School simply to make some music. This became The Hall Village Brass Band and today is recognised as Canberra Region's premier brass band.
During this period the Band has built a proud history of quality brass ensemble performances. In June 1999 the Band toured New Zealand and then achieved national recognition by winning the National Brass Band Championships in 2002. Since 2002 the Band has won the Australian National Eisteddfod six times. The Band has also provided Canberra audiences entertaining and diverse concert performances through their "Many Facets of Brass" concert series, proudly supported by the ACT Government.
Today the Band remains unique in the Canberra area, as the only brass band in the ACT. The band plays a vast range of musical arrangements drawn from its library of over 2,000 items. The Band gives many public open-air concerts around Canberra and also performs in regional centres including Yass, Queanbeyan, Cooma and Tumut. The Band provides specialised musical performances for diverse artistic and cultural events and has performed for the Italian and Belgian communities, The Australian War Memorial, Floriade and a variety of private functions.
On Saturday 4th October Hall Village Brass brings its entertaining and diverse range of brass ensemble music to the city of Queanbeyan. In the style of the "Many Facets of Brass" concert series, the band will present a program featuring a vast array of brass music that will appeal to lovers of fine music. The concert features magnificent works for brass including "Fanfare for the Common Man", and a selection of music from the movies including Star Wars, James Bond and Saving Private Ryan. The Band will also be joined by the Queanbeyan Players in performing selections from musical classics including "the Pirates of Penzance". Come along and enjoy an evening of wonderful entertainment with Hall Village Brass and the Queanbeyan Players.
---