Get bush fire smart!
16 September 2008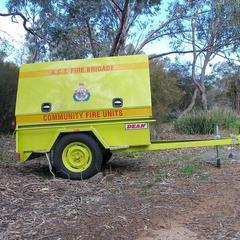 Team Leader of the Hall Community Fire Unit, Bob Richardson, advises all residents that CFU training has commenced ready for the fire season. Basic training for new starters will be on 20th -21st Septembers, and refresher training for existing members will be on 28th September.
Training is conducted by the Urban Fire Brigade at the Forrest Station, and gives a comprehensive introduction to use of the CFU trailer equipment and training in the protection of homes from fire.
Four relatively recent arrivals in the village - Brian and Marion Banyard in Gibbes Street, and Pierre and Rowena Dragh in Hoskins Street have signed up for the basic training. Others will be warmly welcomed. If this is of interest to you, or you would just like to have more information about the Hall Community Fire Unit, contact Team Leader Bob Richardson, on 0407071245 now.
---