Boost to Removal of Green Waste from the Hall Reserve
7 July 2022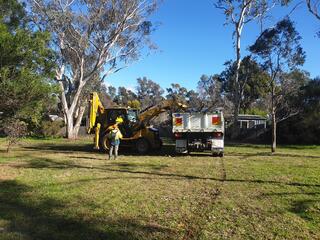 Following the overwhelmingly successful community work day on the Hall reserve on Sunday 19 June, a number of village residents have been progressively removing trailer loads of green waste. In addition to the effort of the 31 volunteers during the work day, removal of trailer loads of green waste by village residents deserves a bit thank you from all of us.
Today, efforts to remove the green waste have been given an enormous boost with the arrival of a truck and front-end loader from ACT Parks and Conservation. The team leader, Brenton, said that they were very happy to help remove the green waste that they will use in a reclamation activity near Ainslie. Brenton was amazed at the work that had been done during the village work day and said that they wanted to support such an effort.
Thanks to the ACT Parks and Conservation team.
---