Environmental Consultation on Wallaroo Solar Farm to Close by 24 June
17 June 2022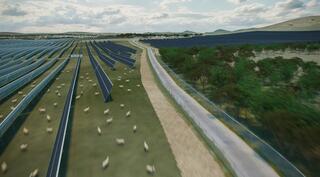 NGH environmental consultants are undertaking a social impact assessment (SIA) for the proposed Wallaroo Solar Farm development. The Wallaroo Solar Farm is proposed to have a capacity of approximately 100MW, comprising ground mounted solar photovoltaic (PV) modules and a centralised battery energy storage system (BESS). The solar farm would be sited in the locality of Wallaroo within the Yass Valley LGA, approximately 15km northwest of central Canberra and 40km southeast of Yass. The site lies adjacent to the NSW/ACT border, near the ACT suburbs of Dunlop and MacGregor.
The project is being assessed as a State Significant Development under the NSW Environmental Planning and Assessment Act 1979. The Secretary's Environmental Assessment Requirements (SEARs) (SSD-9261283) for the project were issued in October 2020. The SEARs require the completion of a socio-economic assessment as part of the project's Environmental Impact Statement.
NGH has been engaged by Wallaroo Solar Farm Pty Ltd (the Proponent) to complete the SIA in alignment with the Department of Planning and Environment's Social Impact Assessment Guideline (DPIE, 2021).
As part of the SIA, NGH is carrying out targeted research consultation with near neighbours, community members, community organisations, and key stakeholders. SIA consultation is different to the broader project community and stakeholder engagement, as it has a specific focus on understanding and evaluating the potential social impacts and benefits of the project.
NGH are aiming to complete the targeted SIA research consultation by Friday 24 June.
For further information or to provide comment, contact Michelle Ferguson at .
Information on the solar farm development in Wallaroo is available at wallaroosolarfarm.com.au/about-the-project
---