Media and MLA Interest in Hall Storm Water
29 April 2022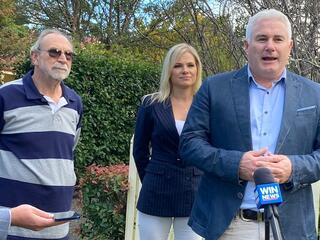 Following a lack of substantial response by the ACT government to the storm water issues in Hall, and months of work by the Progress Association with Yerrabi MLAs, Leanne Castley and James Milligan, representatives from WIN News and the RiotAct came to a joint media briefing in Hall today.
Leanne Castley, James Milligan, Robert Yallop, Shaun O'Connor, Olga Minion and Margaret Monahan told WIN News and the RiotAct of the ongoing issues with storm water flooding, laneway erosion and property damage in Hall. We talked about the way that successive ACT governments have ignored the need to appropriate storm water infrastructure that protects the unique heritage values of the historic jewel that is Hall.
The Progress Association is working on further media coverage in order to get the attention of those responsible in the ACT government.
The Progress Association is continuing to seek engagement by the ACT government with the Progress Association and Hall residents:
A thorough and comprehensive assessment to be undertaken by technically qualified and experienced personnel;
The design of a storm water drainage and street drainage system to address the current and future needs of Hall village, cognisant of the increasing frequency and severity of storm events resulting from global climate change and consistent with the parameters of the Hall Master Plan (May 2002) and the Hall Precinct Code (October 2013);
The allocation of adequate funding in the ACT government budget for the full completion of all required works for a storm water drainage and street drainage system including associated works on the laneways.
If you would like further information, please contact Robert Yallop at or call 0407 012 160.
---