'Cooee' centenary
22 August 2008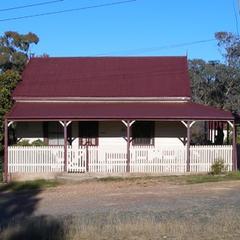 'Cooee' is one hundred years old!
A few weeks back we ran the story 'Winarlia lives!', about the pise cottage built in 1901 and now being renovated as a home for Shaun O'Connor and his young family.
Since then, we learned from current owner Peter ('Pedro') Corrigan, that his fine cottage at the top of Victoria Street is a hundred years old this year. Regular readers of the on-line news will know that this makes 'Cooee' five years older than Jim Rochford... It seemed a good time to ask Pedro to write up a birthday article about his home. What follows is in his words:
I bought 'Cooee' nearly thirty years ago and have lived half of my life here.
I knew the old house and its junior occupants in the sixties, as a kid, when visiting Merv and Eileen Southwell with my parents, who had been friends of the Southwells since the late 1940's. (Eileen was actually a distant cousin of Mum's). The Southwells lived next door at 41 Victoria Street, and before that, at 'Sunnyside'.
Norman and Marion Sims lived at 'Cooee' as kids, and were just a vague memory until I had a visit from Marion last year, when we reminisced about the 'good old days' at Hall.
'Cooee' was originally built as a butchers shop in 1908, probably by James Kilby, local butcher, who owned 'Eneagh Hill' (opposite the Catholic Church). I have been unable to discover whether 'Cooee' actually operated as a butchers shop, but it could not have been long before it was reconfigured as a home. by dividing it into four rooms and adding a kitchen and small veranda at the back.
This became the O'Briens home, and is where Ernie Gribble had his tragic demise. Mrs O'Brien was Ernie's sister. It was to 'Cooee' that the mangled Ernie was transported after his terrible accident with the family traction engine (read 'Tragedies' in Leon R Smith's book - 'Memories of Hall').
Many years ago I had a visit from an elderly bloke, an O'Brien, who had been a child when 'Uncle Ernie' had his accident. He showed me the very spot where Ernie died, and asked if I had ever lifted the old lino. I told him I had not, but had put carpet on top of it.He replied "Mum put the lino down because she could never get the blood stains out of the floor boards". He was watching me with a grin to see if he get a rise out of me. Ernie died in 1920.
Potential ghost number one.
Sometime later, local historian Lyall Gillespie spent his early years at 'Cooee'.
Merv Southwell, a lifelong mate, gave me bits and pieces of oral history from the years when he lived at 'Cooee' with his Granny, Ann Southwell. He remembered as a 9 - 14 year old taking baths in the 'bath house', a small shed separate to the house (which has been my darkroom for some years), and watching long icicles forming on the rafters and fearing they would fall and impale him during his ablutions.
The old copper was still there when I came, but fell apart as I tried to move it. The bowl survived.
Merv remembered Granny's love of reading, and how he once heard her swear for the first and last time one night. On investigating he found that she had nodded off while reading by candlelight and set fire to her book!
Ann died at 'Cooee' in July 1932. A second potential ghost.
When I was rebuilding the kitchen and the bathroom (Mr Sims had closed the veranda and converted it to an indoor bath house), Merv gave me some hand-made bricks from the old original Southwell home 'Woodburn', insisting that Granny worked hard at the old fire place and would be pleased to see them come up to 'Cooee'. They now make up a feature wall around the old Metters Canberra stove in the kitchen. I think she would be pleased.
I bought the house from Zillah Southwell, who made me promise I would look after it and not knock it down. I have honoured that promise, and improved on it, so that the pioneer inhabitants would be surprised how warm it can be in winter.
On that point I remember waking up one winter morning a few weeks after moving in to hear my then wife giggling. When I asked the reason for this mirth she said "Look in the mirror!". I did. I had icicles on my moustache!
All the restoration I have done has been with a view to preserving the original appearance and 'feel' of the house. An extra room has been added at the rear, out of sight. It is certainly a far cry from the termite-ravaged house that I moved into. I was told then that the only reason it was still standing was that the termites were holding hands!
[Many thanks to Peter Corrigan for this centenary article - and for being such a fine trustee of 'Cooee'! For more photos of 'Cooee' see the Photo Gallery
---