The Riot Act Highlights Hall Village - Especially Kynefin Cafe
13 January 2021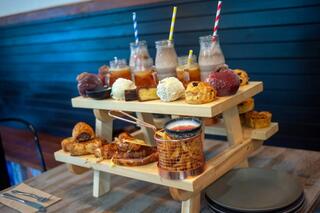 The Food and Wine section of the Riot Act on 12 January highlighted Kynefin Cafe in Hall Village with an extensive interview with Welsh-born chef and owner of Kynefin, Geoff Whittall.
The full article in the Riot Act is available at the-riotact.com/hot-in-the-city-visit-hall-for-kynefins-welsh-delights-and-bombolini-doughnut-deliciousness/431266
A highlight of Kynefin is the high tea piled on a miniature picnic table laden with a colourful array of delicacies. The 'seats' of the mini picnic table hold the savoury food, while the 'table' itself bears the sweet items as well as the drinks.
Kynefin www.kynefin.com/ is one of the great venues to eat and drink in Hall Village together with Daughters @ Hall www.halldaughters.com.au/ 1882 1882barandgrill.com.au/ and capitalwines.com.au/cellar-door-new/
---