Concept Design for Landscape Development on Victoria Street - Consultation
1 October 2020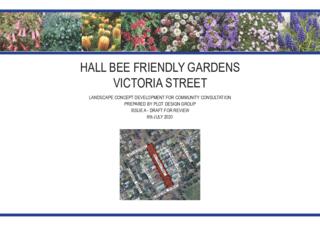 The Village of Hall and District Progress Association has received a grant for the "Hall Honeys" from the Commonwealth Communities Environment Program to establish attractive "Bee Friendly" gardens and signage to improve habitat for pollinators in Hall Village and promote the health of bees to our community and visitors. These gardens seek to make the main street more attractive to residents and visitors and enhance the heritage character of the Village.
A landscape designer has been contracted to assist with development of a design proposal for the plantings and signage. The design will need to be consistent with the Hall Precinct Code, ACT government regulations and bush fire hazard reduction requirements.
The "Hall Honeys" in cooperation with the Progress Association is undertaking a process of consultation including a survey, walk-through of the concept design on site in Victoria Street, and an on-line conversation with the landscape designer.
The Concept Design can be seen at www.hall.act.au/file-preview.html?dboid=6119
The survey is available at www.surveymonkey.com/r/Z97KF79
Community participants, local businesses and volunteers, including members of the" Hall Honeys" and the Hall Men's Shed, will be engaged in the construction, installation and on-going maintenance
of the gardens.
---