Canberra Tracks Signs in Hall Come to Life
29 February 2020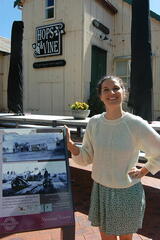 Six of the Canberra Tracks signs around Hall Village have now been brought to life with the latest technology. Augmented Reality technology has been utilised to add audio and video content to the signs.
The 6 signs are "Fine Quality Boots'' outside the old Bootmakers shop, ''The Only Licensed Hotel'' adjacent to the site of the Cricketers' Arms Hotel just outside the village, ''A Religious Spirit'' outside Daughters at Hall, A Store of Premier Quality & Service" outside 'Winarlia', ''A Versatile Building'' outside Kinlyside Hall (Hops & Vine) and ''The Children Need a School" at the front gate of the old Hall Primary School on Victoria Street.
To listen to the audio and see a slide show of early photos of the sites, you will need to download the free Canberra Tracks app and then point your Iphone, android, Ipad, or Tablet on the photo on the sign with the AR sticker and it will come to life.
Instructions on how to download and use the App are on each of the signs.
This latest project was undertaken by the Hall School Museum and Heritage Centre working with an audio visual producer and creators of AR technology together with Canberra Tracks and was supported with funding made available by the ACT Government under the ACT Heritage Grants Program.
It is expected that the addition of this technology will attract more visitors to the village to enjoy the food and drink at local venues and provide more information on the history of the places to the increasing number of walkers and cyclists coming into the village from the Centennial Trail and to encourage them to visit the Hall School Museum.
Jacqui Robson, who spent her teenage years in Hall is the voice of each of the audio stories on the newly AR equipped six Canberra Tracks signs in Hall Village.
Jacqui is an actor who recently finished a short season as Louisa Collins, the last woman hanged in Australia in the Deadhouse: Tales of Sydney Morgue series of plays.
Photo: Jacqui Robson standing next to one of the AR signs.
---
« ACT Government Crackdown on Parking Under Trees on Nature Strips