Hall - bee friendly village?
29 October 2019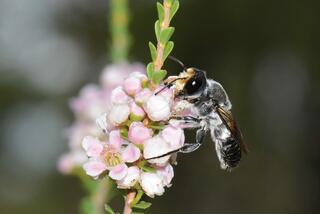 The Progress Association has recently submitted a grant application, with the support of local MHR Andrew Leigh, to the Commonwealth's Communities Environment Program (CEP) to help create a 'Bee Friendly Hall Village'. The application seeks a grant of $15,000 to go towards the estimated total cost of the project of $59,640 (which will include significant 'in kind' contributions).
The project proposes to implement public plantings (planter boxes) and signage in the centre of Hall to provide additional habitat and promote awareness of the vital role that bees play, and encourage behaviours that will promote bee health. "The funding will be invested in enhancing the existing environment and streetscape with attractive plantings and signage in the main street that will be enjoyed by residents and enhance the heritage character of Hall Village".
Bees around the world are in serious trouble due to the loss of habitat and food sources, use of pesticides and and diseases such as the varroa mite. It is proposed that Hall Village will be part of a movement to counter this by becoming a 'Bee Friendly' community - one that is aware and engaged in fostering bee health.
The proposal was developed by members of 'Hall Honeys', an informal group of resident bee keepers who are working on a number of initiatives to make Hall especially 'bee-friendly'. 'Bee Hotels' – timber blocks with bee-sized holes drilled in them - will be a feature of the gardens, and these will be monitored by volunteers to better understand pollinator populations in the Village.
The project will commence by providing information and seeking feedback from traders and residents in the specified project location. It is proposed that an expert then be contracted "to assist with development of a design proposal for the plantings and signage", with the design having to be consistent with the Hall Precinct Code, fire risk mitigation, health and safety and other governmental regulations, and the 'rural character' and 'heritage values' of the village. Once concluded the design is to the subject of consultation with the community, with the assistance of the Association, and revised accordingly.
'Hall Honeys' Convenor, Jonathon Palmer, and Leigh Crocker are nominated as project managers. Once consultation on the design is concluded they will then have the task of engaging volunteers in the construction, installation and maintenance of the planter boxes. The application recognizes that the plantings will have to be very low maintenance. The project must be completed by 31 December 2020.
---