Emergency Defibrillator at Hall Post Office
17 May 2018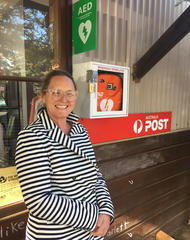 The Rotary Club of Hall has installed an Emergency Defibrillator outside the Hall Post Office. Thank you Trudy.
The code for the lock can be obtained from staff at the Post Office during business hours.
After hours contact:
Bill 0419 489 606
Dennis 0408 644 144
Please share this information to friends in the District.
---