Centenary Trail Upgrade
2 May 2018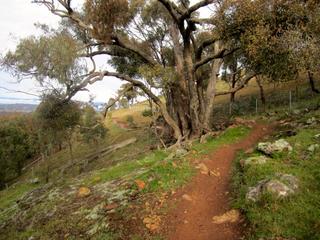 On Wednesday 2 May 2018 representatives from the VHDPA met with the ACT Centenary Trail Coordinator to discuss the upgrade of a section of the trail between Gladstone Street and Clarrie Hermes Drive.
The group raised the issue of cyclist safety along Victoria Street. Discussion centered around the provision of a suitable bridge over Halls Creek and construction of a dedicated cycle/walking trail on the eastern side of Victoria Street. It may be possible to also make provision for horses.
The Coordinator undertook to repair parts of the existing trail, erect some warning signs, some weed control and to clean up illegally dumped material beside the trail.
Further meetings will discuss planning and advancement of the proposed upgrade. Funding will be provided from a dedicated Centenary Trail Upkeep and Development Budget allocation.
This is the summary by Nadia Rhodes (Parks and Conservation) of issues identified:
         Bridge crossing over Halls Creek
  Engineer approved
  Prefered to be located on Eastern (polo x side) of the roadway
  Needs to be of adequate width for walkers, cyclists and horses
  Horse friendly design (consider boardwalk materials and reinforcement)
  Will require hand railings due to height 
  Abutment to bridge will require some construction
  Official Yield signs at either side
 
         Potential Trail realignment
  Preferred to remain on one side of the road (Eastern) to reduce the hazard of crossing multiple times
  Will need construction
  Signages
  Drainage will need to be considered as the road easement has a shaped spoon drain (natural materials)
  Need to consider distance of trail from road and trees
 
         Road Crossing near Highway (if trail has to remain to cross at this point?)
  Need to install adequate signage to warn trail users of upcoming road crossing
 
         Embankment between Victoria St and Clarrie Hermes
  Repair potholes in trail
  Install dumping signs
  Rubbish pick up to be organised through TCCS on a regular basis
 
         Carparking at trail head (Hoskins St)
  Was never intended as a carpark but has multiple cars regularly on the road verge
  Install signage to alter behaviour to encourage car parking at Hall School as originally intended.
Contact: Peter Howard or Tony Morris if you need further information
---