Our top class joinery
2 April 2008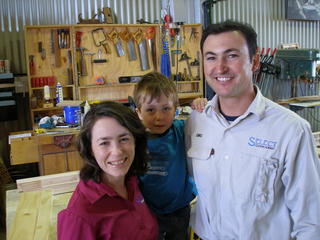 Gino and Robyn Monteleone and four year old Aidan are living their dream down the Wallaroo Road. Gino is a skilled and experienced cabinet maker, with twenty one years in the industry. Gino and his two apprentices manufacture the joinery while Robyn runs the office.
They describe themselves as "specialist cabinetmakers and joiners for domestic and commercial applications specialising in working with solid timbers, recycled timbers and veneers and non-standard joinery". Examples of their work can be seen on their website – or you can stop off at the Bungendore Woodworks Gallery and see their fine 'round to round' extension table.
They are strongly committed to the highest standards of occupational health and safety, and to sustainability. Robyn says the average kitchen-life in the ACT is 7 – 10 years; for their 'Eco-Kitchens' they are offering a guarantee of 15 years. They are currently finalising a complete joinery fit-out for a straw bale house in Bywong where the emphasis is on a 'green' and sustainable result.
Select Custom Joinery has been down the Wallaroo for three years. In his previous work Gino was Project Manager for the joinery fitout in the new Foreign Affairs Building, and joinery fit-outs for new hospitals in Mildura and Broken Hill. Gino also taught cabinetmaking part-time at CIT for 5 years, while building up Select Custom Joinery.
Visits to the workshop are by appointment only – please ring 6230 9414.
---