Visitors to an Australian Garden by Dagmar Parer (Watchful Eyes)
1 December 2017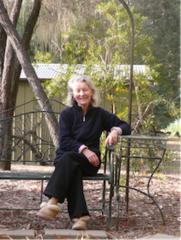 This online book is a delightful collection of articles by Dagmar Parer which describes wildlife observed in the garden of her property in Wallaroo.
 
Avid readers of the Rural Fringe will recall a series of articles over 2007 to 2009 under the by-line Watchful Eyes, designed to increase local popular appreciation of the range of flora and fauna of the Wallaroo area. It turns out that Watchful Eyes was Dagmar Parer. She entitled the series 'Garden Visitors', aiming to provide a light-hearted introduction to species that she had observed in or from the garden of the property in Wallaroo where she lived with her husband Eric Wainwright. Dagmar died tragically from mesothelioma in November 2014, at the age of sixty-six. Eric has pulled together the collection of twenty of her Rural Fringe articles into a book in memory of his beloved wife. This enchanting book is called Visitors to an Australian Garden. 
 
Dagmar was trained as a biologist at the Australian National University in Canberra. The early arrival of her first daughter precluded her dream of a career as a research scientist, but she then worked for some years in the Division of Wildlife Research at the CSIRO, and maintained a lifelong interest in the natural environment. Through her mindfulness training over nearly 30 years before her death, she became particularly observant of the world around her, which she indulged in her daily walks around wherever she was living.
Visitors to an Australian Garden can be down-loaded
here.
---