Community Tree Planting at CSIRO
31 May 2017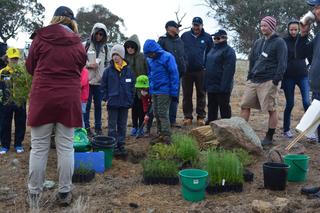 COMMUNITY TREE PLANTING AT CSIRO - Hall
Sunday 21May / Sunday 28 May 2017.
Bus loads of resident volunteers turned up at the CSIRO PLANTING DAYS at the Research Station on the Barton Highway.
Key native species such as box gum were included.
Revegetation on the CSIRO land opposite Hall contributes to a healthy environment for living things. The area designated and planted is zoned / protected and administered by the Tree Protection Act 2005.
This ensures residential development directly opposite HALL Village will be limited.
Hall Collectors famous catering team, Dennis, Bill, Brett and Sonny delivered free gourmet BBQ steak and sausages to the volunteers.
A Coffee van supplied free endless treats. Coffee, tea, ice cream, hot chocolate.
Ginninderra Catchment group (Hall) was in attendance.
---