9th Annual Hall Brass Band Concert
22 February 2017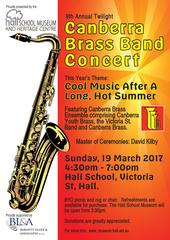 Hall's 9th annual brass band concert is happening soon - on Sunday 19th March at 4.30 pm. Well known local personality David Kilby will again be master of ceremonies at an event which is styled 'Cool music after a long hot Summer'. Music from Canberra Brass, Canberra Youth Brass, and the Victoria Street Band.
The concert is free, but the event is a fundraiser for the Hall School Museum and Heritage Centre. There will be a raffle and a bucket collection.
Seating will be provided, but you may like to bring a rug or chairs of your own and a picnic - although refreshments will be available.
Save the date, round up your friends, and enjoy the sound of brass on a lazy summer afternoon...
---