Our ANZAC's Exhibition
3 April 2015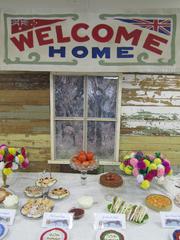 'When Hall Answered the Call' is the title of the Hall School Museum's special exhibition to commemorate the centenary of Anzac. The official opening by Andrew Leigh MP took place on 11th April. The Exhibition, part of the ACT Heritage Festival, will be open each weekend during April.
There is an excellent review of the exhibition by Dr David Stephens at Honest History. The exhibition was previewed by Canberra times writer Ian Warden, who was particularly enchanted by the 'incredible inedible banquet'
Museum volunteers have been busy for a year, researching local soldiers' histories and fitting them into the context of the Great War. Their stories are displayed together with photographs and memorabilia. A special feature of the exhibition is a re-created setting of a Welcome Home ceremony that was held at wars' end in the local Kinlyside Hall.
The exhibition pays special attention to the district's several Rolls of Honour, all unofficial local initiatives by civic, school, church and sporting groups. These Rolls all date from the first few years after the war, long before the Australian War Memorial and state equivalents like the Shrine in Melbourne.
The exhibition features stories from the Hall home front where families gathered together for mutual support in the absence of their menfolk. A local Red Cross Branch was formed where comfort parcels were assembled and socks hand-knitted and sent to the troops.
For further information Contact the Honorary Curator : Phil Robson:
phone no. 0408 259 946
email.
Visitor feedback
Andrew Leigh, Member for Fraser - "It was a treat. You've done an extraordinary job on the exhibition, and it was a real honour to be there to acknowledge the efforts of you and the team".
Other comments:
"Such lovely work! You've all worked very hard and it shows"
"Had a most enjoyable time. Very friendly group"
"Wish to say that this exhibition is awesome! I do believe that the smaller the exhibition, such as this, the higher the quality"
"Thank you for all your hard work. I feel you have done all the men proud"
"You are an amazing group. I have so enjoyed the display and all your efforts. Came to Canberra to visit the War Memorial. I think this will be the highlight"
"Your festival events and open days are going from strength to strength - keep up the good work!"
"Wonderful. Twelve months of dedication. Congratulations."
"Truly excellent in every respect"
"What a fantastic job the volunteers have done! This is a truly unique exhibition and deserves more public recognition"
"Pleased I came. I am in awe of the display and those who put it together".
Photos
View a selection of photos of the exhibition.
Exhibition Opening times
Every Thursday Morning, 10.00 - 12.00 pm
First Sunday of the month (Hall Market Day), 12.00 - 3pm
Group visits by appointment (0408 259 946)
Entry is Free. Your donations will assist the Friends of the Hall School Museum.
Easy parking and disability access.
---