Rotary recognises villagers
5 July 2014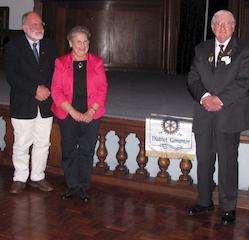 Rotary recognises villagers
At their annual 'change-over' dinner on Tuesday 1st July the Rotary Club of Hall presented Community Service Awards to three well known locals - Alastair Crombie, and Tony and Margaret Morris. 'Honorary' villager Yvonne Robson was recognised as a Paul Harris Fellow for her outstanding contributions to the work of the Club, and in particular her work for the Rotary Oceana Medical Aid for Children program (ROMAC).
Tony and Margaret were recognised jointly for their huge contribution to the life of the community over a very long period of time including voluntary serve with Rural Youth, the Royal National Capital Agricultural Society, the Queanbeyan Show, Hartley Lifecare and the Hall Markets, and the National Sheep Dog Trials. Tony has been on the committee of the Hall Progress Association for around 40 years, and has also had long and active involvement in the Bush Fire Brigade and the Hall Mens Shed. Both Tony and Margaret are now actively involved in the School Museum.
Unlike the Morrises, with their deep family connections to the Hall district, the Crombies came to Canberra from England in 1973, and moved to Hall in 1976. Like Tony, Alastair has been long term committee member of the Progress Association, and has served as President on four occasions. He was heavily involved in the consultations and representations that finally issued in the Hall Master Plan and Heritage listing of the village, and in the negotiations with the ACT Government following closure of the school in 2006.
Yvonne (who's husband Phil is the Honorary Curator of the School Museum) has been in Rotary for a relatively short period, but has evidently made a big impact, not only through the ROMAC program, but in enthusiastically leading other initiatives in the community service area of Hall Rotary's work.
The change-over dinner was held at the Abbey at Gold Creek Village and was hosted by past President Adrienne Moss. The Award ceremony was chaired by out-going President Ralph Southwell, with Awards being presented by past District Governor, Len Goodman. The new Club President is Tony Tucker.
Thanks are due to the Rotary Club of Hall, not only for taking care to acknowledge significant community service by members of the local community, but also for inviting a table-full of other Hall community members to share the fine occasion. This included the current President of the Village of Hall and District Progress Association, David Hazlehurst, and an earlier President, now editor of the Rural Fringe, Jo Hall. Others attending for this special occasion were Darrell and Olga Minion, Bob Richardson and Helen White, Mardie Troth and Phil Robson.
[Our photo shows Margaret and Tony Morris, and Past District Governor Len Goodman]
---