School site – future options
26 March 2014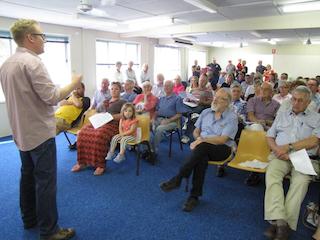 A large gathering of around seventy people attended the community meeting on Sunday 23rd March to share information and express opinions about future uses of the Hall school site. The meeting was called by the Village of Hall and District Progress Association and President David Hazlehurst got the meeting underway with an overview of recent history in relation to the site and a summary of the views of the Association. The Association's position was outlined ahead of the meeting in a lengthy and informative discussion paper. And an association site plan.
Ben and Louise Mason then outlined their proposal for establishment of a child care centre on the site, and three options for how this might be achieved:
Renovating one or more existing structures to make them compliant with current building and child care regulations;
Removing one or more existing structures and building new structures; or
Building new structures on a part of the site not currently occupied by buildings.
A child care centre has previously been identified as one of the options for any new development on the site, which is currently designated as to be used for 'Community Facilities'. The 'Master Plan' report on the site by Eric Martin also identified a particular area that he considered most suitable for any such development.
Honorary Curator of the Hall School Museum, Phil Robson, then outlined the history and development of the Museum and the work of the 'Friends of Hall School Museum' – many of whom were in attendance. Since adopting the orphaned 1911 school and its collection (the Laurie Copping Heritage Centre) the Friends have been successful with grant applications and very productive in the mounting of exhibitions and enhancement of the collection. With great support from the Hall Mens Shed a good deal of work has been done on refurbishing and maintenance of the buildings now occupied, and their furniture and fittings.
Phil's presentation was followed by 'open forum' during which a number of people expressed views on the matters that had been raised – and other issues. There was broad support for the establishment of a child care centre, with the proviso that it should not displace the Museum or other existing activities, but be developed on current open space. There was also strong support for the Preschool, and the suggestion that any new development might include future provision for it, as it is understood that the existing building becomes 'non-compliant' in 2015. Others raised concerns about the planning and decision-making process, the implications for parking of any future development, and ensuring that no development of 'commercial' character becomes the 'thin edge of the wedge'.
In the immediate future the school office / library building (very recently cleared of unwanted furniture) where the meeting was held will be the venue of the forthcoming exhibition 'On our Selections'. The Association will be taking recommendations about the use of other buildings on the site, and proposals for the longer term to the ACT Government.
Community members are warmlly invited to send further comments to the Progress Association up to 11 April. This can be done through any member of the Committee or by email to
---