93 and batting on...
10 January 2014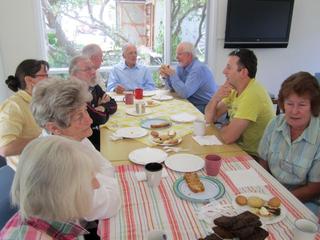 Hard on the heels of Jim Rochford's recent century, another of nature's gentlemen, Greg Rule, has just posted 93, and like Jim, is batting on.
Greg was a founding member of the Hall and District Men's Shed - which actually started life with a bunch of blokes meeting up occasionally for a cuppa outside the shop. This little gang grew (slowly) and migrated to The Cottage at the school when it, and the garage next door were refurbished for the community after the school was closed.
Yesterday 'Happy birthday' was sung at the Cottage by a healthy gathering of Shed members, augmented by the 'Friends of Hall School Museum'. Greg did the honours with a fine birthday cake. We wish Greg all the best and look forward to reporting another century.............
[in our photo, Greg sits - of course - at the head of the table...]
---