Centenary Ride – the horse in the Capital
9 November 2013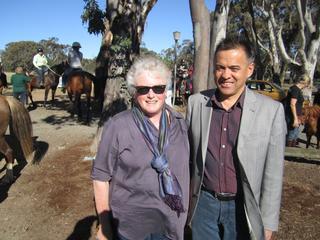 MLA Chris Bourke, representing the Chief Minister, was at the Hall Showground to Launch the ACT Centenary Ride – a celebration of the role of horse in the history of the city. In the warm late afternoon sun, Christine Lawrence, President of organizers, the ACT Equestrian Association, welcomed horses, riders, and others, and outlined the big Ride planned for the following day.
As well as just having a good time, the point of the Ride is the raise the profile of horse riding in the Capital to support the ongoing work of ACTEA towards the provision of equestrian facilities. The Ride will also promote the Bicentennial National Trail. BNT Section Coordinator Jenny Costin was amongst the gathering, as was equestrian stalwart – now ACTEA Secretary - Beth Stone
Riders will be setting off from half a dozen points around the City, and following the Bicentennial National Trail to Equestrian Park, Yarralumla. Amongst them will be a group of a couple of dozen or so riders setting off from Hall, at 7.00 am. The Police have undertaken to arrange safe passage through the Barton Highway / Clarrie Hermes Drive intersection, and well prepared trail leaders will have responsibility for small groups of riders to ensure safety.
After the launch, splendid light refreshments (and champagne!) were offered to all.
Our photo shows MLA For Ginninderra Chris Bourke with Christine Lawrence, President of the ACT Equestrian Association Inc., outside the Hall Pavilion.
---