'Hall and District 1913' - an Exhibition
9 April 2013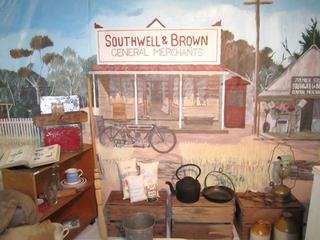 The Ginninderra-Hall district was one of the busiest and most populous areas in the Canberra region - long before Canberra came to town. As part of the ACT Heritage Festival, and a contribution to the Canberra Centenary the Friends of Hall School Museum are inviting you to view Hall as you have never seen it before.
The 'Hall and District 1913' exhibition is based on a walk along a re-created Victoria Street as it was in 1913, with photos and artefacts from the various businesses that were there at the time. A superb mural of both sides of Victoria has been painted by Shaun Robson.
The exhibition will be held at the Hall School on 13-14 April 2013 from 10am to 4pm each day with a formal opening taking place at 10am on Saturday 13 April 2013 by Dr. David Headon, Cultural and Heritage Advisor to the Centenary of Canberra.
Other attractions will include:
A mapping display of the NSW bush schools that were 'captured' by the proclamation of the Federal Capital Territory
Display of early trades by Hall Mens Shed;
Old vehicles from the Hall Collectors' Club;
Face painting and other activities for children;
Sausage sizzle by the Rotary Club of Hall;
Quilting and spinning displays
Blacksmithing
and other activities too numerous to mention!
This will also provide another opportunity to visit the Hall School Museum, and the 2012 Exhibition on 'Bush Schools of the Hall District'.
Our photo shows a section of the exhibition featuring the Hall General Store. This image, and five others, will be on sale as 'postcards' -income to benefit the Museum. Mural created by Shaun Robson.
---