Visit by New Ginninderra MLA - Chris Bourke
12 August 2011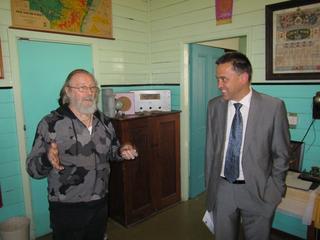 Chris Bourke, new MLA for Ginninderra, visited Hall on Friday 12th August. The visit was organised by the Progress Association to 'meet and greet', and to give our new member a briefing on some matters of local interest and concern.
Those who met with him included Anna Sheargold from the Prechool Parents Association, Phil and Yvonne Robson (who showed him through the Museum and conservation rooms adjacent), and Association committee members Bob Richardson, Paul Porteous, and Alastair Crombie.
Chris' father was a teacher in country Victoria, so he was familiar with schools like ours!
After an hour or so at the school site he made a 'pit stop' at Gold Creek West, where John Starr gave him a quick tour of the new shearing shed and function centre.
Our photo shows Chris Bourke talking with Phil Robson in the Hall School Museum.
---