Andrew Leigh MP calls by
8 August 2011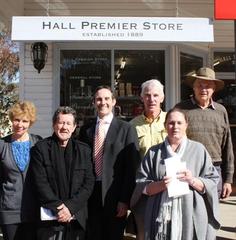 Federal Member of Parliament for Fraser, Andrew Leigh, visited Hall recently to 'meet and greet', and learn about matters of local concern and interest. Members of the Progress Association Committee and others met over coffee at the General Store.
While the Federal government has little direct involvement in Hall (our 'Broadband for Seniors' Kiosk is funded by a Federal grant), we are all constituents in the seat of Fraser, and Andrew was keen to learn about matters of local interest.
A good deal of talk centred on the future of the school site, and after coffee the group moved to the school where Andrew was able to visit the Museum again (he was here for the Centenary), and inspect the Preschool arrangement.
On Friday next the new MLA for Ginninderra, Chris Bourke, will be making a similar visit. We will be meeting with him at The Cottage
Our photo is courtesy of Damien Hickman in Andrew Leigh's office]
---