Indonesian visitors to Hall School Museum
5 July 2011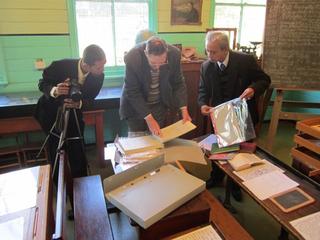 The Museum yesterday hosted a visit from two members of the Yogyakarta State University during their five day study visit to Australia.
Yogyakarta State University has an educational Museum which it is keen to expand, and are particularly interested in the model of the Australian National Museum of Education (ANME), based at the University of Canberra.
Good friends of the Hall School Museum, Dr Malcolm Beazley and Dr Geoffrey Burkhardt of the ANME wanted to show the visitors an example of an Australian School Museum. They know the Hall Museum well, having undertaken the task or creating an inventory of the entire collection.
The Museum visit was followed by afternoon tea at the Cottage, kindly prepared by Margaret Morris.
If you are interested in the Hall School Museum, would like to be kept up to date on Museum activities, or lend a hand from time to time, you may like to become a 'Friend of the Hall School Museum'. If so, send an email to:
Put 'Friends' in the subject line and give your contact information. Free to join up until the inaugural meeting in August.
Our photo shows Geoff Burkhardt showing some of the Museum's 'treasures' to the visitors.
---