Vicki Walters (nee de Britt)
20 January 2011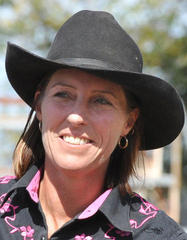 Community members will be saddened to know of the serious accident sustained by Vicki Walters, daughter of Mick and Evelyn de Britt. Vicki, a champion horsewoman, was thrown while competing at the Nowra Rodeo on 27th December, and remains under special care at the Prince of Wales Hospital in Randwick.
Doctors advise that it will be two or three months before the nature of her injuries is finally known, and there is little chance that she will be able to move to a hospital closer to home in Yass meanwhile.
For those who know Vicki, or anyone else who would like to help give support to her and her family (husband Cliff and three children), the NAB in Comur Street Yass is taking donations in Vicki's name, and contributions are being received at a number of businesses around town - including Jenniques Hair and Beauty, Blissful Hair Designs, Club Polo, Yass Computers, NRMA, B&G Plumbing and Landmark Copeland Medway.
Anyone seeking further information on Vicki's progress, or able to offer practical assistance, can call her friend Louise Banks on 0427 226 181 or 6227 2266. The Yass Tribune has carried at least two stories about Vicki's accident, and the support that is being organised in the town.
Meanwhile, our thoughts and best wishes are with Mick and Evelyn, daughter Vicki and her family.
[Photo courtesy of Yass Tribune]
---