Mens Shed powers up
24 July 2010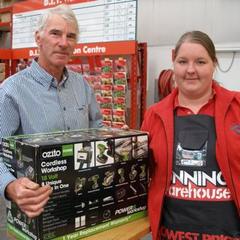 Hall Mens Shed is now the proud owner of a set of cordless power tools, thanks to Bunnings in Belconnen. Bunnings have a fine record of supporting community groups, and were quick to respond to a request for some assistance.
The Hall blokes have been meeting at The Cottage on a Thursday morning at 10.30 am, and have recently started repairing the bicycles used by the children at Cranleigh School. The group has also had a look at the nearby School Museum, and will be able to make a big contribution there once the conservation management plan is finalised.
The Mens Shed has also received support from the Rotary Club of Hall, and has begun buying tools and equipment for the bike repair and maintenance work.
The Mens Shed is a social group as well as being involved in community service, and blokes of all ages and stages are welcome to come along.
Our photo shows Emma Hamilton, Activities and Community Organiser at Bunnings handing over the Ozito Power 8 to Alastair Crombie.
---